New 16-channel Isolated ARINC-825 PMC Board Designed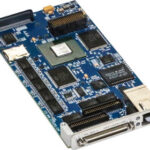 Phoenix USA, 9 May 2013 – The CAN Aviation Alliance is proud to announce our new 16 Channel ARINC-825 / CAN Aerospace / CAN PMC form factor board. This powerful and intelligent board is designed around the latest 28nm XILINX ARTIX-7 FPGA with over 215,000 internal Logic Cells. The resulting implementation has 6 Internal Microprocessors running at 112 MHz with 16-Bosch C_CAN CAN Cores. There is on board storage of CAN data up to 128GBytes. The board is field updatable, highly configurable and easy to modify for custom Special Mission Applications. The board uses the PMC form factor to allow maximizing the types of host platforms that it can be used in. Carrier boards will be available in CompactPCI, CompactPCI Express, PCI, PCI Express, PXI and others. In addition, there is a stand-alone enclosure available that allows the board to be used in flight test applications from Aircraft power. The board also offers new features such as in the field upgradeable software and FPGA firmware and is compatible with the same leading edge XCT software suite as our existing 4 and 8 channel PMC boards.
The first production 16-channel PMC boards will be available before the end of July 2013. Contact us today for additional information needs regarding our new hi-tech product.
*Notice: All third-party brands and trademarks belong to their respective owners.
CAN Aviation Alliance goes Paris Air Show 2011

Paris, 20 June 2011 – The CAN Aviation Alliance shows PowerNECS, the new CANflight and XCT during Paris Air Show in Hall 2C, stand D341. The demonstration includes a flight simulator driven by CANaerospace over Wireless LAN (CoE) and ARINC825 over Ethernet (A825oE).
Laptop-ready version of the PMC825 available
Phoenix, 21 March 2011 – Innovative Control Systems and Stock Flight Systems have announced a 2-channel version of the PMC825 contained in a standalone solid aluminum enclosure. The CANflight unit is powered by a USB connector and communicates with host computers via Ethernet/UDP/IP. The CANflight functionality is identical to that of the PMC825. Host software already developed for the PMC825 including XCT may be reused. Click Here For More.