CAN / CANaerospace / ARINC 825 Dual Channel Intelligent CAN Analyzer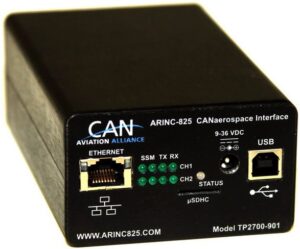 Low cost ARINC 825 for your laptop, desktop, or other data acquisition or simulation platform.
The CANflight adapter is our Dual Channel ARINC 825, CAN, and CANaerospace Bus Analyzer and Traffic Generator brought to you by the CAN Aviation Alliance who helped define the ARINC 825 standard and who's equipment was used to validate the ARINC 825 standard.
Featured Highlights:
Brought to you by the CAN Aviation Alliance.
USB Powered
CAN, ARINC 825, CANaerospace compliant.
The latest in ARINC 825 technology
Two Electrically Isolated Channels per unit Multiple units may be connected to one platform.
USB Powered CAN / ARINC 825 / CANaerospace Bus Analyzer / Recorder
Dual Isolated CAN Channels using Bosch CAN Controller IP
Wetzel Technology eXtended CAN Tool (XCT) included
File Upload / Download through µSDHC memory cards.
Supports 1000BaseT, 100BaseT and 10BaseT Ethernet
Optional 9-36 VDC Aircraft Powered <5 Watts power consumption
Passively Cooled. No moving parts, -40°C to +85°C
Weight: <1 lb in standard configuration
138 mm L x 80mm W x 48 mm H
Dual onboard processors.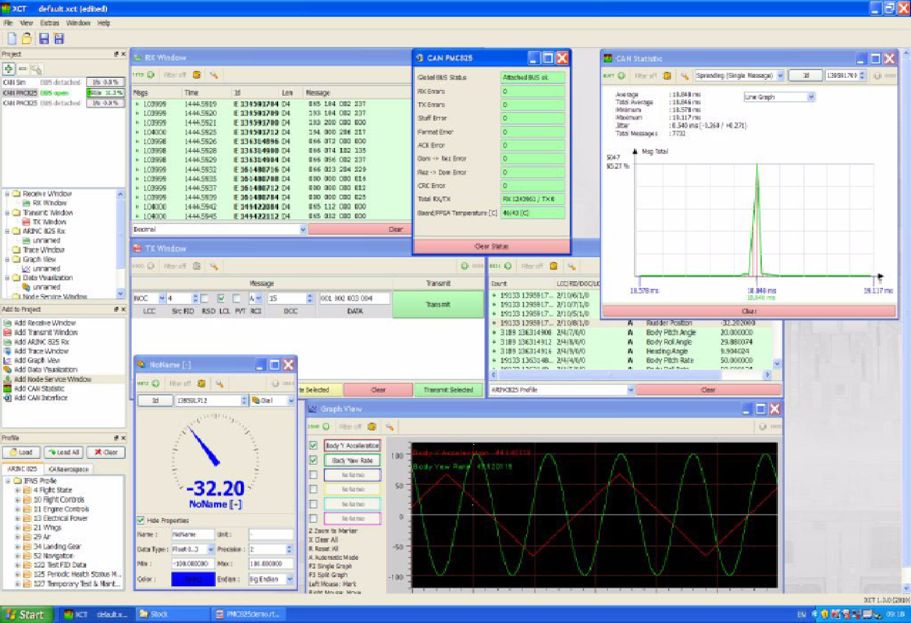 Compatible with Wetzel
eXtendedCan Tool (XCT)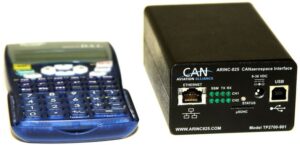 The CANflight is a small and low cost Dual Channel ARINC 825 Bus Analyzer and Traffic Generator suitable for Engineering Development, Test, and in field use with Laptops for Data Loading, Flight Test, Maintenance, and other tasks on CAN, ARINC 825, and CANaerospace equipped vehicles.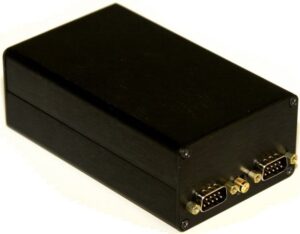 Uses Dual DB-9 Male Connectors for ease in wiring ARINC 825 / CAN busses. IRIG-B timing input also shown on SMA. SMA to BCN adapter available.
The adapter is a Controller Area Network (ISO 11898), ARINC 825 and CANaerospace Protocol Compliant Interface with a 1000/100/10 BaseT Ethernet interface for communication with the connected equipment. Because each CANflight adapter communicates over Ethernet with it's host, Multiple CANflight adapters may be connected using a simple Ethernet switch if more channels are desired on one platform. CANflight includes the powerful eXtended CAN Tool (XCT) software for Windows, MacOS, and Linux.
Each CANflight Adapter is a small handheld, USB powered, intelligent adapter that is powered from either a USB port or from a 9-36VDC Aircraft or Automotive power source. The adapter provides two electrically isolated fully independent CAN 2.0B Interfaces and is implemented in a Xilinx FPGA and contains two internal CPUs. The CAN 2.0B interfaces are implemented with licensed Bosch C_CAN controller IP cores to ensure compatibility with the Bosch CAN standard and to allow precise hardware timing and control over the transmission and reception of CAN/ARINC 825/CANaerospace messages. The Xilinx FPGAs and the CANflight firmware provide local buffering and 30ns time stamp resolution for all CAN messages and implement ARINC825/CANaerospace specific protocol functions including record/playback functionality to offload the host. The two CAN channels work under sustained 100% bus load without dropping any messages. The CANflight also supports CAN listen only and loopback modes. An onboard MicroSD interface is included on each module for data acquisition storage and for module configuration information.
Please note that the CANflight supports CAN and ARINC-825 up to ARINC-825-2. If you need CAN-FD and ARINC-825-4, please see our isolated 16-channel CAN-FD card, the XMC-A825-16 board.
Downloads
CANflight API Download 409KiB ZIP
CANflight Brochure 1.7 MiB PDF
Ordering and Info: CANflight Adapter Part Number:

TP2102-901
Includes eXtended CAN Tool (XCT) for Windows, MacOS, and Linux.